---
Grayslake Advisors, LLC provides expert witness testimony and litigation support in economics, finance, accounting and real estate. We apply deep academic and industry expertise to solve complex business problems in a wide variety of legal and regulatory matters.
With offices in Los Angeles and New York City, we serve clients nationwide, including large multinational law firms, Fortune 500 companies, and government and regulatory agencies. We invite you to browse through this website to gain a better understanding of our expertise and service offerings, and contact us to discuss how we can exceed your expectations.
---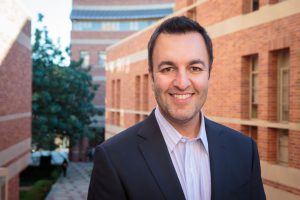 Paul Habibi is Principal of Grayslake Advisors, LLC and a leading expert in economics, finance, accounting and real estate.  As a tenured lecturer at UCLA Anderson Graduate School of Management and UCLA School of Law, and accomplished real estate investor and developer, his unique perspective has ideally positioned him to serve as expert witness in cases for several Fortune 500 clients and multinational law firms.
Widely quoted in the media, he has appeared on BBC World News, The Today Show, CNN, FOX News, MSNBC, ABC, and NPR, as well as all major dailies including the Wall Street Journal, New York Times, Financial Times, Washington Post and Los Angeles Times.
At UCLA Anderson Graduate School of Management, where he teaches in the areas of real estate finance, investment, and development, he has consistently been a finalist for the Teacher of the Year Award.  At UCLA School of Law, he teaches Accounting and Financial Skills for Lawyers.
Outside of campus, Professor Habibi is Principal and Co-Founder of Habibi Properties, LLC, which owns and manages three separate divisions: (1) multi-family apartments in the Los Angeles area; (2) single-family homes in Kansas City, Missouri (Arrowhead Residential Funds); and (3) almond and pistachio orchards in California's San Joaquin Valley.
He previously held positions as an Investment Banking Associate at Bank of America/Merrill Lynch, Manager of Transaction Support with The Walt Disney Company, and Audit Manager with Arthur Andersen LLP.
He holds an MBA with Highest Distinction from the Ross School of Business at the University of Michigan, under merit scholarship, where he received the David T. Shelby Award and graduated Beta Gamma Sigma. He also holds a BA in Economics from UC Santa Barbara. He is a licensed CPA, Real Estate Salesperson in the State of California, and Real Estate Broker in the State of Georgia.
He serves as an Industrial Advisor for EQT Partners, a Swedish private equity group of 18 funds with $30 billion in capital. Active in the community, he serves on the Board of Directors of Pacific Charter School Development, and the founding Board of Trustees of Beacon School for Boys.
---

---

---

---

---

---

---

---

---

---

---

---

---

---

---

---

---

---

---
---

---

---

---

---

---

---

---